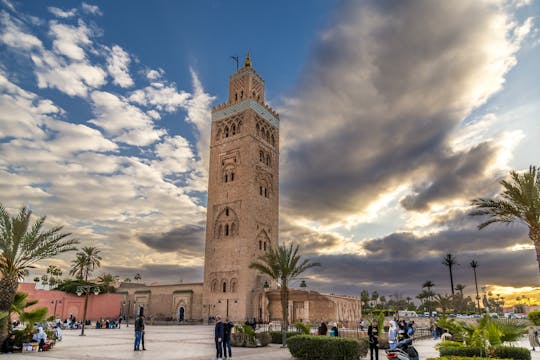 Marrakech is a city of intrigue, spice-scented souks, and exotic charm that holds thousands of layers of history. This day tour includes highlights such as the Koutoubia Mosque, Bahia Palace, Medina and fondouks allows you to scratch the surface and peel back the layers of this ochre-coloured city.You'll start at the Koutoubia Mosque and minaret, one of the largest in the western Muslim world. We'll head on over to the Bahia Palace with its intricate decorations and then to Maison Tiskiwin to see Bert Flint's art collection, before pressing through the labyrinth of the Medina's artisan area. Watch local cooperatives at work and browse traditionally-made handicrafts, after which we'll sit down for lunch in one of its famed riads.Then we'll dip into the Marrakech souks and fondouks where bright colours and oriental smells line the streets before stopping at a café for a drink and a pastry. We'll round off the tour at the buzzing Jemaa el-Fnaa square, the life and soul of the city.
Duration
from 4 hours to 8 hours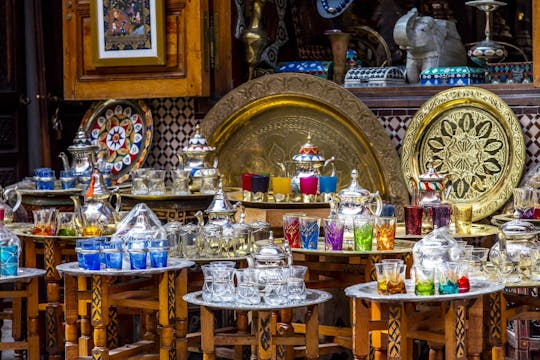 Exploring the nooks and crannies of Marrakech Medina makes for a great afternoon. Every corner of its souks and fondouks holds a different aroma, sight and sound, and you'll explore different areas with your guide. We'll finish the tour at the bustling heart of Marrakech, Jemma el-Fnaa square.Kick off with a guided walk on the mazy UNESCO-listed Medina with a guide. You'll wind your way around variety of over 60,000 stalls and be able to soak up the atmosphere without worrying about losing your bearings. We'll start at the fondouks, make our way to a Berber pharmacy for a demonstration of herbs and spices, and then on to the craft and commercial districts.We'll wander on to the bakeries, where the ovens churn out freshly baked bread, and bring the tour to an end at the atmospheric Jemaa el-Fnaa square. Relax with a drink on a terrace overlooking the square, watching fruit and spice sellers going about their business, before taking some time to explore at your own pace.
Duration
from 2 hours to 4 hours
Popular experiences in Marrakech