If you're in search of a holiday experience that'll get your heart pounding, then a day at Xplor is just what you need. Ziplines, 4x4 jungle trails, underground pools, rafting through caves – and that's only the beginning. Bring out your inner Tarzan and enjoy an action-packed day in Cancun.Heading deep into the Riviera Maya jungle, you'll discover a land of adrenaline-pumping opportunities. Soar through the treetops on ziplines as high as 45 metres – the height of an 11-storey building – then back on solid ground you'll get behind the wheel of a 4x4 to rev your way through the rainforest.Your journey will also bring a few surprises along the way, with a chance to swim and raft in an ancient cenote – an underground cavernous pool – where you'll use your hands to propel you through the water as you admire stalactite spears that have formed on the roof. To bring your day to an end with a splash, you'll zoom through the sky in a hammock and land in the refreshing cenote water.
Duration
from 4 hours to 8 hours
This trip is all about action, adrenaline and adventure. Arriving from Cancun, we waste no time in cranking up the excitement. After a quick safety briefing, you'll zoom along the jungle floor on an ATV ride and swoop along the treetops by zipwire. Back on solid ground, you'll learn about the life of the early settlers as you take part in a traditional Mayan purification ceremony. Take a break from the action with a refreshing cenote swim, and we'll stop for a snack too. Then it's time to slip on our snorkel gear and set out to explore one of Latin America's largest coral reefs. This is one day out that ticks all the boxes.
Duration
from 4 hours to 8 hours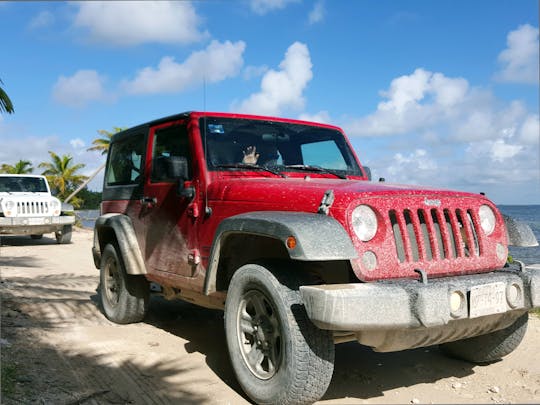 The Sian Ka'an Biosphere Reserve is an unspoiled natural paradise that brings you even closer to Cancun's colourful flora and fauna. You'll travel by 4x4 and by boat along mangroves to see wildlife up close, snorkel and swim in natural pools, and find peace and tranquillity on beaches that stretch as far as the eye can see.You'll start the tour with a 4x4 journey deep into the reserve along off-road trails through the thick jungle terrain of the Mexican Caribbean. Next, you'll board the boat in Paso Largarto (Lizard Road) where you'll be able to spot dolphins, turtles and maybe even manatees and crocodiles. Admire hundreds of species of birds and fish before donning your snorkelling gear and jumping into the clear water around the reef.You'll be able to swim in shallow, calm water – known as La Piscina - that stretches several metres into the sea and then tuck into a buffet lunch in Punta Allen. You'll have some free time to soak it all up before returning by boat and 4x4.
Duration
more than 8 hours
Popular experiences in Cancun